I get questions about the process of making wall decals all the time via my decal shop. So, I thought I'd just make a quick overview.
Anatomy of a wall decal:
Sketchbook drawing
I make my designs from scratch. Rough ideas start out in a sketchbook.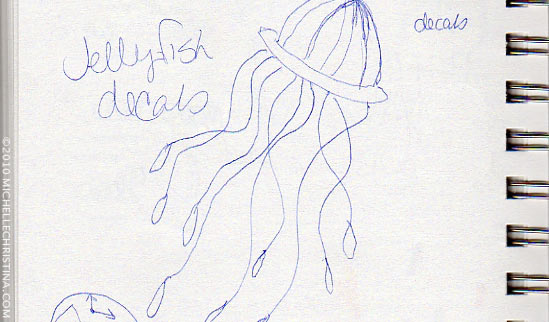 Ink Drawings
I like to have a few different versions of each design to work with. These sketches are pretty rough, but they show the basic next step – which is a cleaned up ink drawing.


Vectorized
The drawings are then scanned into the computer and traced in Adobe Illustrator. Final design tweaks happen at this point. This is the file that will be used to cut the decals.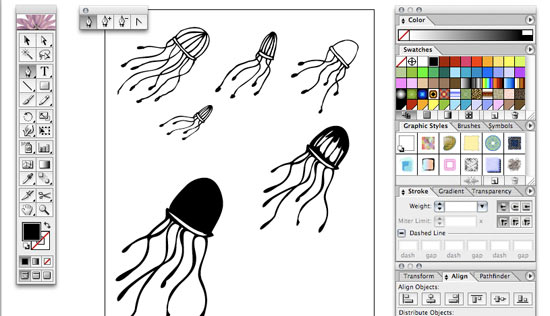 Final work
Final designs for wall decals are usually a simplified version of the original drawings. At this point the designs are sized and grouped to fit either a laptop decal or wall graphic set. Decals are all die cut from rolls of vinyl when orders are placed & I do all of the production work in house.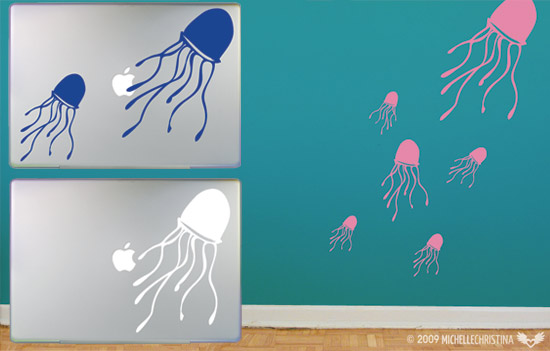 I work pretty heavily with vector graphics because they can scale to any size without affecting the artwork and designs are easily tweaked to create new projects. This is a small piece of a digital art print entitled Grape Jelly. I created this from a few of the original jellyfish sketches.