Here's a quick and easy photo tutorial that illustrates how to apply a die cut vinyl decal to your laptop.

Prepare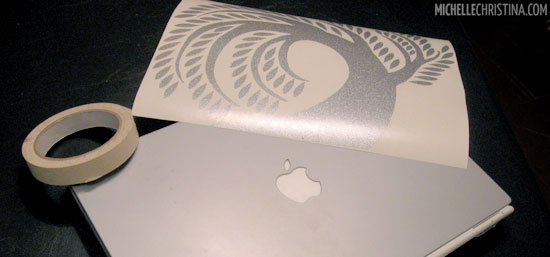 You will need masking tape & a credit card or squeegee and a clean laptop (no seriously, clean it before you stick a decal on it). Your vinyl laptop decal is sandwiched between a white backing paper and a top layer of clear transfer tape. Lay the decal on a flat surface, graphic side down. Press firmly over the entire decal with the edge of a credit card. (You are re-activating the bond between the decal and the clear transfer tape.)
Tape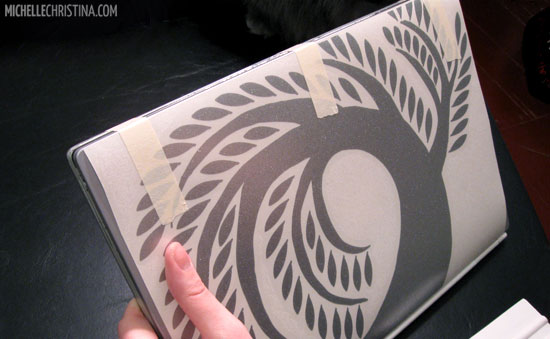 Place your decal face up on top of your laptop. Use a few pieces of tape to make a hinge across one edge of the decal & laptop. Make sure your decal is positioned the way you'd like it to be applied. I'm holding up my mac in this photo to show the tape acting as a hinge – it's wrapped over the edge and all the way to the back of the laptop.
Peel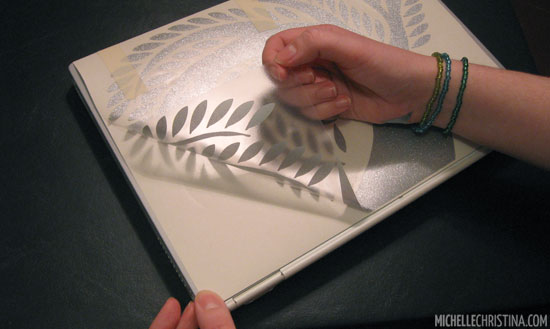 Once your decal is taped down on one edge, you're going to peel up the clear top layer of transfer tape – the decal will stick to this layer. Note: If pieces of the decal aren't transferring, then lay the transfer tape back down & smooth over with a credit card – and use a little elbow grease this time.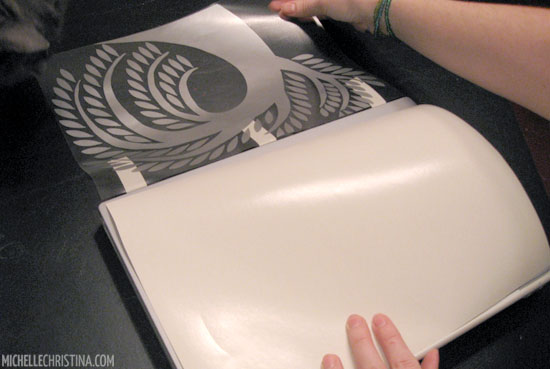 After the decal has been transferred completely to the clear tape, you can discard the white backing paper.
Apply
Hold the decal & transfer tape layer taut with one hand and slowly use your credit card to press down on the decal, taking one light stroke all the way down the center.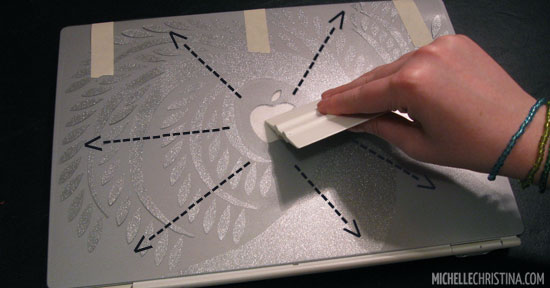 Apply the rest of the decal by starting at the center and working your way out to the edges of the decal. Finish the application by rubbing over the entire graphic to remove any air bubbles.
More Peeling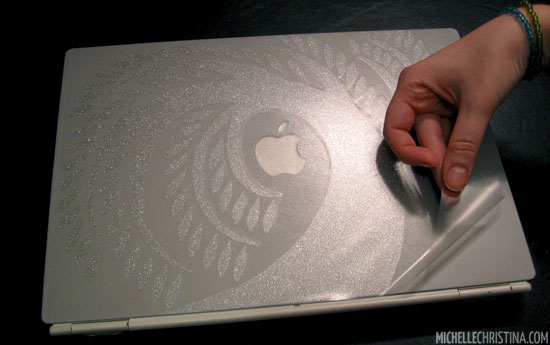 Remove the tape hinge & gently peel back that clear transfer tape. Tip: Don't pull straight up on the transfer tape, try to keep your hand down low, close to your computer & pull back slowly.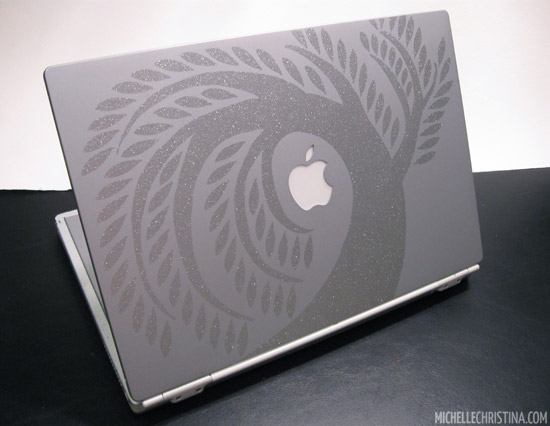 Finished!
Removing your design is easy! Just peel up a corner of the decal and slowly remove it. My laptop decals generally leave very little residue behind, just make sure you are peeling the decal off while the laptop is cold.
Questions about the process? Send me an email!
Feel free to check out the wall decal application tutorial as well.
P.S. You can find this weeping willow laptop decal in the shop.